The Oak Orchard Neighborhood Association (OONA) has invited Senator Robert Ortt, and NY State Dept. of Transportation Director, Region 4, Kevin Bush to an OONA meeting on November 14, 2016. The meeting will run from 7-8:00 p.m. at the Gene Haines residence, 14361 Ontario St. (across from the Black North Inn). Senator Ortt and Mr. Bush will be discussing future paving plans for the Lake Ontario State Parkway west of Hamlin Beach.
This event is open to all area residents interested in the future of the Parkway.
There will be a free children's Clothing Closet held on select Tuesdays and Saturdays at Concordia Lutheran Church at 1769 Kendall Road. Children's clothing for infants through age 18 will be available on the following dates:
Oct. 29 from 9 a.m.-noon
Nov. 8 from 6:30-8 p.m.
Nov. 19 from 9 a.m.-noon
Dec. 6 from 6:30-8 p.m.
Dec. 17 from 9 a.m.-noon
Donations of children's clothing may also be dropped off on the above listed dates and times. To make other arrangements, contact Jill at 585-734-3239.
Turn in your unused or expired medication. Click on the link below for more information. 
The 1st Annual Orleans County Heritage Festival Sept 9th - 11th
The Orleans County Heritage Festival is a county-wide celebration of historic and cultural attractions. Visitors will get their "heritage passports" stamped as they enjoy the experience of deepening their appreciation of our regions priceless people, organizations and assets. The town of Kendall is home to historic cemeteries. Beechwood and Greedwood Cemeteries will be showcased. Stop out between the hours of 10 - noon to learn interesting facts and information. Visit www.OrleansNYHertage.com for more information.
Boaters Against Cancer Harris-Lance Flotilla July 8-10, 2016
Boaters Against Cancer (BAC) was established to provide support to boaters and their families who are battling cancer. Each year a flotilla of boats will tie up on Lake Ontario in an effort to demonstrate how boaters support each other and to commemorate fallen cancer victims and their families.
A weekend long event at Eagle Creek Marina with two nights of entertainment, food trucks, memorial bonfire and lantern send off, Sunday morning breakfast and the worlds largest tie up of boats on Lake Ontario (1:00 pm Saturday or whenever the lake conditions allow) to commemorate the lives of fellow boaters who have struggled with cancer.
A donation of $100 per boat for the full weekend includes all events and dockage. Each additional member of your crew is a $10 donation. Donations for tie up only boats will be welcomed.
For more information email rroberts1@rochester.rr.com.
Orleans County Household Hazardous Waste Collection Day
Saturday August 6, 2016
Click below for details on if you qualify for single family home repair loans and grants.


USDA homeowner loans and grant
A
BIG Thank You

to everyone who supported the Kendall Garden Club Geranium Sale!  It was a huge success! All proceeds raised were used to purchase flowers for the planter boxes to beautify the town!  

 
The Kendall Community Innovation Advisory Committee is looking for new members. Our mission is "...to improve the quality of life in our community." We meet the 3rd Monday of each month at the Kendall Town Hall. Contact Glen Spellan for details 659-4080.
Kendall's

Me
morial

Day

Parade

:
Parade begins at 7:00 pm at the Curtis Memorial Soccer Field on Countyline Road in Morton, NY
Van will be available to transport local veterans along the parade route
Ceremony to commence at Morton Cemetery
Kendall Jr/Sr High band and chorus will perform
Speeches by NY Assemblyman Steven Hawley, NY Senator Robert Ortt and Congressman Chris Collins
Please support the Frank W. Clow Memorial Masonic Scholarship 
Contact David Maslyn to donate
Second annual SunnKing's E-Scrap 4 Camp was a success!
Collected at Highway Dept. - Crandall Ave.
Congratulations to the Town of Kendall for recycling 7988 lbs through the 2016 e-Scrap 4 Camp Fundraiser!
Your recycling efforts contributed to a total donation of $11,219.94 to Camp Good Days & Special Times!
Proceeds of donated electronics went to Camp Good Days.

2015 Senior Christmas Party: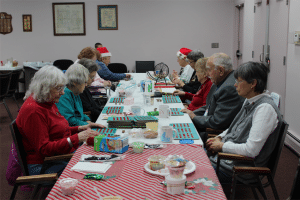 K

E

N

D

A

L

L

'

S

F

I

N

E

S

T

:

Here is an opportunity to display your loved ones picture on the wall in the Kendall Town Hall. Bring a 5x7 picture of a Kendall active duty personel in the military to the Kendall Town Hall and it will be hung on the wall to be honored as one of KENDALL'S FINEST! Let's show our support and appreciation for their service!

 

Orleans County is opening a trio of drop-off sites allowing residents to dispose of their CRT televisions, computer monitors and other potentially-hazardous electronic waste materials at no cost.

 

Collection sites at the County Highway Department's maintenance garage in Albion and the Murray and Shelby town halls will be open from 9 a.m. to 2 p.m. Monday to Friday starting Sept. 15.,

Reference Link:

http://www.thedailynewsonline.com/news/article_ab6f5fc2-5054-11e5-a684-8fa0f0f68c5e.html

 

Turn in your unused, expired, pet, sharps, or over-the-counter medication for safe disposal 10am– 2pm at any Orleans County drop-off location

DrugDropOffFlyer September- 2015

 

 

 
2015 Kendall Scarecrow Festival